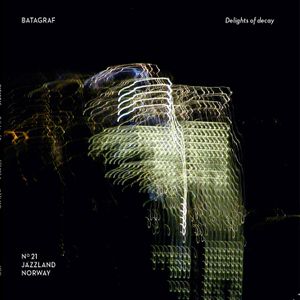 Batagraf
Batagraf is a percussion ensemble, created and led by jazz pianist Jon Balke. Founded in 2003, Batagraf's latest record Delights of decay marks the band's 15th anniversary. The group formed as a collaborative response to the growing prevalence of strictly sequenced computer-generated beats and its felt dehumanization of music among the band's founding members. Considering percussion and language as the heart of (human) musical expression, Batagraf placed these at the center of their music. Motivated by a desire to explore the relations between language and rhythm, the band has since drawn inspiration from various African and other traditions. The group's debut Statements (ECM, 2005) and its follow-up, Say and Play (ECM, 2011) have illustrated the evolution of the project's ideas and its development of musical concepts. The result is a form of musical which is connected to a broad spectrum of human experience, imagination and expression, yet clearly puts forward its own identity. Batagraf's music is an ode to the elasticity and creativity of percussion and rhythm keeping, manifesting through percussive explorations and profound interrogations of words and moods. 
Previously characterized by Balke as a "private research forum" rather than a fixed band, Batagraf functions as a core group with a pool of collaborators. The band started off with Harald Skullerud, Ingar Zach and Kenneth Ekornes, Helge Norbakken, Snorre Bjerck and Jon Balke, the latter 3 of whom continue to make up the band's core team. Over the years, the group has performed many concerts with varying lineups, including musicians Frode Nymo (saxophone), Arve Henriksen (trumpet), Sidsel Endresen (voice), Solveig Slettahjell (voice), Miki N'Doye (voice), Jocelyn Sete Camara Silva (voice), Jennifer Mykja Balke (voice), Erland Dahlen (drums ) and Torgeir Rebolledo Pedersen (voice). 
Batagraf's various collaborations have also resulted in two sub-projects: Pratagraf and Batabrok. Pratagraf is the result of collaboration between the band and two of Norway´s leading standup comedians, Espen Beranek Holm and Are Kalvø, while Batabrok features the band together with rapper Runar Gudnason and Hedvig Mollestad.  
Delights of decay is Batagraf's third album, featuring musicians Emilie Stoesen Christensen (voice), Ingeborg Marie Mohn (voice), Julie Witek (voice), Mathias Eick (trumpet), Trygve Seim (saxophone) alongside core members Jon Balke (percussion and keyboard), Helge Andreas Norbakken (percussion) and Snorre Bjerck (percussion). The compositions on Delights of decay are made by Jon Balke with lyrics by Emilie Stoesen Christensen, though the album also contains some improvisations.  The myriad of musical influences on the collection are numerous, dense and distinctly global. The group's extensive travels and workshops in Gambia, Senegal, Nigeria, Cuba and beyond, as well as interactions across distance with percussion masters from around the world, has enabled the group to draw from a wide range of ideas which they weave into a musical language that is rich, evocative, familiar and novel. Additional tonality is provided by trumpeter Mathias Eick and saxophonist Trygve Seim. Their contribution within the framework provided by Balke's compositions brings both textural and harmonic elements which seamlessly intermingle with the moods evoked, from which they in turn discover and propagate new ones. The exploratory nature of the project adds a certain frisson to the listening experience, which generates the sense that Batagraf's music is a set of events unfolding live rather than recordings.