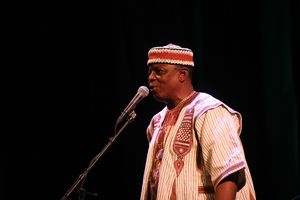 Adama Barry
Adama Barry is a one of a kind musician. A vocalist and master of a variety of instruments, Adama fills his listeners with warm and joyful music brimming over with the immediacy of life. 
 Adama grew up in Burkina Faso and belongs to the Fulani people, one of Africa's largest ethnic groups, spread from Mauritania to Cameroon all across the Sahel Belt. Fulani music is played in the pentatonic scale and known for rich blend of impulses and special rhythms. The Fulani traditions have influenced music cultures across the African continent and influenced what became American Blues and Jazz.  
True to his roots, Adama carries his heritage through his music. With a notable sensitivity to rhythm and melody, Adama creates a music which is characteristic of Fulani music while imbuing it with his creativity. Adama makes his own traditional Fulani string-instruments Djurken and Hoddu as well as flute-instruments such as Serendu and Duliara, the latter being his main instrument. His compositions organically integrate flutes from Mexican and Chinese traditions and the Norwegian Mouth Harp, which makes his music both authentic and playful.  
Adama performs his music with a rare blend of purity and richness. His songs are rich in their minimalist arrangement, filled with a kind of philosophical density. On stage, Adama never fails to transfer his energy and enthusiasm for music to his audience, who invariably join in clapping, singing refrains and dancing to the music. 
Lembi -  som her betyr - "Kom! Hør!" (ikke bare gå videre uten å bry deg) og deres "Klima Blues" er et unik møte mellom tre eminente musikere og vokalister fra ulike tradisjoner i Øst- og Vest-Afrika. Initiativtaker Adama Barry med sine tradisjonelle fløyter og 1- og 3-strengs nomadegitarer i fulani eller 'ur-blues' tradisjonen møter Solo Diarra med sin djembe og ngoni i mandenketradisjonen og Endale Getaneh med sin bassgitar og krar i etiopisk tadisjon. En salig blanding av tradisjoner og på mange ulike språk. Til og med norsk.