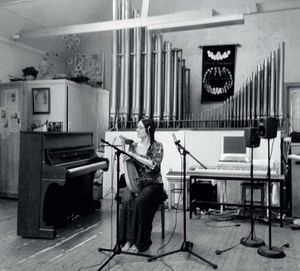 Øyonn Groven Myhren
Øyonn Groven Myhren is a composer and leading Norwegian Folk musician. She is known for her kveding, a Norwegian Folk vocal tradition, and plays the harp and seljefløte (Norwegian willow flute). Øyonn maintains a versatile repertoire of folk and medieval music, with ballads as specialty. Singing in  both regular and folk music scales, her voice is remarkable and pure. 

Øyonn first learned Telemark's kveder folk tradition from her mother Dagne Groven Myhren, kveder- singer who taught her Telemark's kveder folk traditions. With further influences from her father, linguistic and fiddle-player Magne Myhren, and grandfather, composer and folk-music collector Eivind Groven, Øyonn enjoyed a rich background in Norwegian music traditions. She has competed an education in kvedar at the Ole Bull Academy Voss Øyonn as well as a degree in ethnology and folkloric at Riksteaterets studentskule and the University of Oslo. 

Throughout her musical career, Øyonn has been celebrated as a composer and musician for uplifting and enriching treasures of Norwegian folk music. She has won many awards in this genre, including the Sagaprisen for her kveding and Spillemansprisen. 

More recently, Øyonn forms a quarter with Bugge Wesseltoft on keys, Anne Hytta on the fiddle, Anders Røine on langleik (Norwegian Zither, jew's harp and guitars. The material for the album Nordjordet was recorded at Øyonn's grandfather Eivind Groven's organ house at Ekeberg in Oslo.