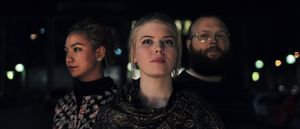 The Beauty Of An Arbitrary Moment - Moksha
OKWorld is proud to present Moksha with their beautiful debut album, "The Beauty and An Arbitrary Moment". 
This trio, featuring guitarist Oddrun Lilja Jonsdottir, percussionist and vocalist Sanskriti Shrestha, and percussionist Tore Flatjord, produces a distinctly unique blend of jazz, Indian Raga, atmospheric improvisation, complex rhythms, textured expressionism, and spacious sonic architecture. Jonsdottir's guitar, whether electric or acoustic, fluidly digs, climbs, weaves, strikes, hums, and sparkles throughout, whether dancing across jazz chordal improvisation, or rapidly chasing down what can only be described as Nordic gamaka runs. The layers of percussion provided by Shrestha and Flatjord drive the music forward, upward, or quietly create changing dimensions and shifting soundscapes. Shrestha's vocal contributions range from sung melody to vocal percussion, adding unexpected colouring and textural transitions to these evocative compositions. The music is meditative and contemplative, each track making a journey that is emotional, intellectual, and spiritual in equal measure. It rarely sits still, yet feels elegantly unified. There is strength, fragility, drama, tension, serenity, and even agitation to be found amid structures that move seamlessly between the gently undulating and the angular. This is a confident and inspired debut that delivers much and promises more for the future. 
Jonsdottir and Shrestha's credentials are exemplary, and these have recently been augmented by their inclusion in Bugge Wesseltoft's 2016 edition of his New Conception of Jazz. Flatjord has worked on many diverse projects, including Dr Kay, Kjetil Jerve Trio and Mongrel.