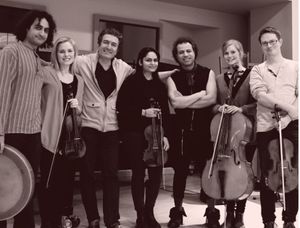 Javid Afsari Rad
Javid Afsari Rad is a professional composer and leading artist of the ancient string instrument santur. With musical brilliance and meditative focus, Javid masterfully captures moods and moves his listeners from contemplative state to utter amazement. Born in 1965 in Esfehan, Iran, Javid completed his education in classical Persian music in Iran where he was a student of Faramarz Payvar and Parviz Meshkatian, and later earned a degree in Musicology from the University of Oslo.  Since he moved to Norway in 1986, Javid has had a magnificent influence on Norwegian music landscape.  
Through his compositions and founding of a variety of ensembles – ComboNations, the Norwegian World Orchestra, Javid Afsari Rad Ensemble and more- Javid has renewed many musical concepts. Bringing together artists with musical roots in India, Iran, Ivory Coast, Senegal, Morocco and Norway, his music has given unique expressions to harmonies between music styles across time and different geographies.  
His work has taken him all over the world, and brought enduring collaboration with outstanding Norwegian musicians including Harpeet Bansal, Kaveh Mahmudiyan, Knut Reiersrud and Trygve Seim and Indian flutists Hapiprasad Chaurasai and violinist Dr. L. Subramaniam. Among the many awards Javid has received over the years feature the Kork award for his compositions for to the Norwegian Radio Orchestra, the Gammleng Price in Class musicians and Artist of the Year by the City of Oslo. In 2017, he was named State Fellow in the Norwegian state budget as recognition and support of his artistic contribution to music cultures in Norway.  
Javid Afsari Rad Ensemble was established in 2007, under the name Rumi Ensemble. The ensemble consists of Javid (santur), Harpreet Bansal (violin), Sara Övinge (violin), Bendik Foss (viola), Tove Margrethe Erikstad (cello) and Adrian Fiskum Myhr (double bass) and is frequently joined by guest percussionists like Habib Meftah Boushehri and Behnam Samani. Their music draws from the Persian, Indian and Arabic music tradition, as well as many other musical wells. In 2011, the band released its first album together with the Persian vocalist Salar Aghili, In the Footprints of Rumi. Based on lyrics of the great 13th century Persian poet Jalal ad-Din Muhammad Rumi, the music takes listeners into the spiritual experience of Sufi culture.  Since their first release, the group continued under the name Javid Afsari Rad Ensemble to reflect the band's change in musical focus, encompassing a wider milieu that includes more European traditions as well as inspiration from other poets. 
Lalehzar is the band's second album, released August 2017. While the album still contains tunes with vocals and lyrics, compared to In the Footsteps of Rumi the main focus of Lalehzar lies with instrumental music. The album features a unique blend of Persian, Indian and Arabic music and the Baroque tradition, which endows the movements with different characters and rhythms. The tunes Choopi, Baran and Baroque Fantasi are good examples of Javid's fascination with baroque music and his current pursuit to make music reminiscent of eighteenth-century baroque dance music. Yet, the album contains many more surprising treasures. The tune Kurdi for instance, inspired by the rhythms of Kurdistan, further attests to the band's ability to bring a wide range of music traditions to life. The title track Lahlezar, meaning 'The Garden of Tulips' is named after a street in Tehran known for its nightlife, where theatres, cinemas, restaurants, bars and cabarets flourished from the 1930s until the Iranian revolution of 1979. The song reflects the form of Arabic-inspired music which was played in this street during the 1970s and echoes a nostalgia for happier and more optimistic times in Iran. The track Lambda Yatatana is based on an old Lebanese tune, one of those melodies one never forgets, combined with the lyrics from the great Persian poet Hafez. Javid's compositions reflect a deep knowledge of Persian and other music traditions. Nevertheless, with their surprising musical flexibility and on-stage improvisations, Javid Afsari Rad Ensemble continuously creates new vocabularies, inflections and accents.