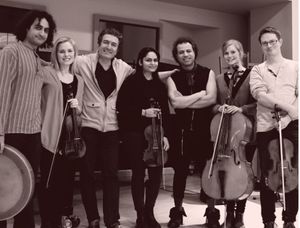 Lalehzar - Javid Afsari Rad
Lalehzar is Javid Asfari Rad second album, released August 2017. While the album still contains tunes with vocals and lyrics, compared to In the Footsteps of Rumi the main focus of Lalehzar lies with instrumental music. The album features a unique blend of Persian, Indian and Arabic music and the Baroque tradition, which endows the movements with different characters and rhythms.
The tunes Choopi, Baran and Baroque Fantasi are good examples of Javid's fascination with baroque music and his current pursuit to make music reminiscent of eighteenth-century baroque dance music. Yet, the album contains many more surprising treasures. The tune Kurdi for instance, inspired by the rhythms of Kurdistan, further attests to the band's ability to bring a wide range of music traditions to life.
The title track Lahlezar, meaning 'The Garden of Tulips' is named after a street in Tehran known for its nightlife, where theatres, cinemas, restaurants, bars and cabarets flourished from the 1930s until the Iranian revolution of 1979. The song reflects the form of Arabic-inspired music which was played in this street during the 1970s and echoes a nostalgia for happier and more optimistic times in Iran. The track Lambda Yatatana is based on an old Lebanese tune, one of those melodies one never forgets, combined with the lyrics from the great Persian poet Hafez. Javid's compositions reflect a deep knowledge of Persian and other music traditions. Nevertheless, with their surprising musical flexibility and on-stage improvisations, Javid Afsari Rad Ensemble continuously creates new vocabularies, inflections and accents.